January 24, 2014
From: Joe Hastings, MD MPH
Santa Clara, CA 95050
To whom it may concern,
I am writing to let you know of the excellent home-buying experience that we had with Tom Holmes. He was referred to us by a neighbor and mutual friend in Mountain View, Jim Jones.
From the beginning, Tom was always available whenever we needed him. He has provided the highest level of service and personal attention. In fact, that is how he earned our business. We had been working with a different agent, but found our current home on our own through Redfin. When we called our old agent, he said he could meet us to look at the property in "the next couple of days." Then we called Tom, and he replied: "What time do you want to look at the property today?"
We have been so pleased with Tom that we are planning to use his services to buy an investment property this year.
The only drawback that I can think of is not even entirely Tom's fault – we encountered some technical difficulties doing the transaction digitally through DocuSign. Fortunately, Tom was there to help us, and spent many hours on the phone with their customer support to ensure that the transaction took place smoothly and in a timely fashion.
Please do not hesitate to contact me if I can be of any further assistance.
Sincerely,
Joe
---
James Carroll Jones Jr.
435 View Street
Mountain View, CA 94041
23 January 2014
TO WHOM IT MAY CONCERN:
Tom Homes was my Realtor on a recent real estate investment purchase in Mountain View, in 2012.
Although we were not the first in line for the property, Tom persisted and we were the successful back up offer. Through thick and thin, Tom's optimism and certainty led the way to a successful deal. Tom insisted that the seller meet certain obligations regarding the non-working heating system and the missing water heater to got compliance with his requests. Tom was there every step of the way with handling the myriad details, with a professionalism that was extraordinary. We closed the sale in October 2012.
I would, and have recommended Tom Holmes to other home buyers and sellers who want the job done right.
Sincerely,
James C. Jones Jr.
Mountain View, CA
---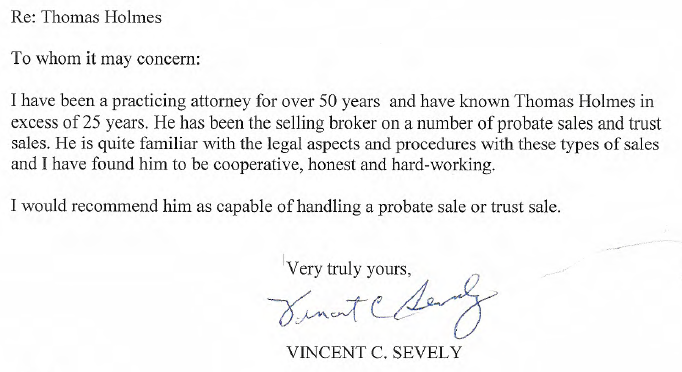 ---